Air Freshener Products Maintenance and Installation Services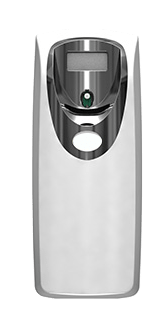 ​Our company is dedicated to providing washroom services in a complete and customer-focused manner. Our products are chosen according to the highest hygiene standards which neutralise germs and offer a clean and perfumed aspect to the washroom.
High-quality Air Freshener Services for your local business
We designed a package tailored specifically for local businesses that provide washrooms for customers and members. The Air Freshener Package consists of installation, maintenance and products that keep a fresh and pleasant fragrance inside the washroom.
The best air freshener service:
Many people are reluctant to talk about the importance of having a clean and perfumed washroom as a business. Each corner of your commercial property has to look top-notch and clean in order to inspire a trustworthy business. Luckily, we have that tool for your business that helps you keep a top-notch washroom, in an efficient and simple way.
The benefits of using our air freshener:
A relaxing aroma therapy;
A pleasant fragrance;
High-rate of eliminating bad odours;
Customised digital products;
Our Air Freshener Device is digital, which enables it to be programmed to alter the frequency of spray. It is also a cost-effective solution because it is made of a durable material with a smooth design that fits perfectly and gets lost in the scenery. The design follows a modern and subtle pattern.
Due to its programming, the spray doesn't leak or get wasted so a fill lasts longer than usual fragrance dispensers. Also, the odour neutralisers are available at a wide collection of sizes and patterns that can be tailored to the needs of your washroom. We have complimentary fragrances amongst all devices throughout the washroom from the sanitisers and hand wash to the toilet seat spray dispensers and urinal screens.
Additionally, our Digital Air Freshener comes with a key lock that keeps the batteries and consumables safe from theft or damage. The Odour neutralisers do not leave a trace of suffocating perfumes or un-breathable sprays.
Excellent customer service:
Our Digital Air Fresheners are installed by expert technicians who will also run washroom product maintenance and advise you on the most efficient way of using the programmed air freshener.
Freshen up your business!
Call us now for a FREE ON-SITE AUDIT – (08) 8280 6533
We will send our experts to your location and together will find the best solution for your business washroom. Contact us for more information on what Adelaide Washroom Services can offer you today!